A big man is an integral cog to any team who hopes to be a contender. The big men I'm about to talk about have all at some stage in their respective careers been considered in the top echelon of centres in the game. For some reason or another the following big men did not have their best season in 2012/2013. Injuries may have held them back. They could have been relegated down the roster or they just may have had trouble meshing with their team mates. For their teams to be successful these players cannot have another sub-par year. These big men need to dominate. These are my top 5 big men who need to step it up.
5) Amare Stoudemire
The Knicks would love a superhero on their team. The closest thing that they have is Amare Stoudemire. We all know that Stoudemire and 'Melo don't mesh well together. They're both to offensively minded. But arguably Stoudemire is in the top 2 Knicks on the roster. With that much talent he has to be on the court. Now Stoudemire has had his injury issues in the last few seasons but despite that I can still see him being integral to the Knicks when he is fit. Every avid or even casual NBA fan knows that Carmello is a ball hog. Granted he is a great ball hog and if he didn't do that the Knicks would not have won as much as they did last season. This got them through the regular season but left the Knicks severely wanting when it came to playoffs time. The Pacers schooled them. Not many saw it coming. The defence and low post offense of the Knicks was abysmal. Enter Amare. For the Knicks to thrive Amare needs to concentrate on boards. Not one Knick averaged double figure boards against the Pacers. Amare needs to take one for the team here. Let his ego take a hit for the good of the team. The best low post threat that the Knicks have is 'Melo but with all the threes he throws up he just doesn't have the time to step inside the key. Enter Amare… again. He needs to bang bodies down low. Give Ewing a call. I'm sure he'll come in and teach a few moves. If he can come up with a decent low post game it is only going to help the Knicks out on the defensive and offensive end.
4) Serge Ibaka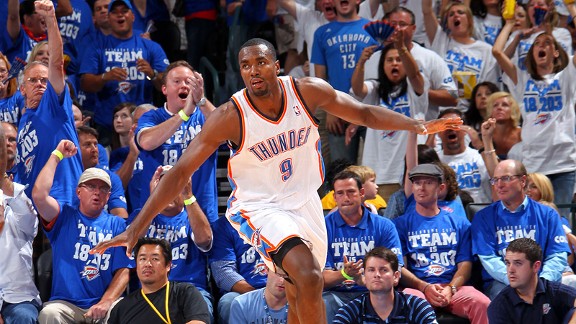 Air Congo never really took off to the heights the Thunder needed last season. Serge is a brick wall on defence. Their are point guards everywhere writing horror stories about what happened when they tried to drive on him. His D is not being questioned here. Where Serge needs to step up is the offensive end. Last season the Thunder figured that either Kevin Martin or Serge Ibaka would shoulder the weight of points James Harden would usually score. It didn't happen. Harden came out and was a revelation at Houston and showed the Thunder, game in and game out, exactly what they got rid of. Many touted the Thunder as Championship contenders. They didn't come close. Their lack of a third scoring option behind Westbrook and Durant left them lagging. Ibaka needs to be that third option. Offensive boards, tip ins, slams, baby hooks, elbow jumpers and a post game. Serge needs to bring all of this in his kit bag if the Thunder are to be a force this season.
3) Andrew Bogut
The big Aussie himself. Andrew Bogut. A former All NBA Third Team member. The man who made Milwaukee a feared opponent in the playoffs. A player who was using his left and right hand to throw up unstoppable hook shots in the post. Everything was going great until he went up for a dunk on the fast break for the Bucks. It looked pretty regulation until the slightest of pushes from Amare Stoudemire threw the big man off balance and sent him flying towards the floor and landing on his elbow. There was no malice from Amare's side. I'm sure you've all seen the pictures. Not really the prettiest sight. A dislocated elbow flapping around all over the place. Numerous broken bones and a look of anguish on the face of Bogut. He knew this wasn't good. It was his breakout year but it disappeared so quickly. Bogut has never been the same since. Bogut had also been traded to the Golden State Warriors. His free throw percentage has dropped drastically. His point production fell. Injuries kept rearing their head and keeping Bogut out of the game for lengthy periods. But last season we saw glimpses of Bogut at his best. Being a pest on defence. Blocking shots. Grabbing boards. He was a revelation for the Warriors in the playoffs but they were only glimpses. Bogut is a flat out hype machine. For the Warriors to make that final push for the big show Bogut needs to lift his offensive production. Bring back that post game that took him to All NBA Third Team honours. His passing game from the block is mint and that's what you want from your big man. Someone that can see the spot up shooter and hit them for the open three. Inside/Outside. Klay and Steph would love it and it will only make them look better. There will be times when Klay and Steph can't hit a shot. That happens to shooters. That's when Bogut needs to make his presence felt most. Demand the ball and work the post. Keep that defensive pressure up but if Bogut can stay healthy and lift his offensive production I see the Warriors making a deep charge.
2) Dwight Howard
For Dwight, the 2012/2013 season is summed up pretty well by the above picture. We saw a lot of whinging and complaining. We saw too much talking with the officials. And we saw a Lakers team that never reached their expectations. A side with Dwight, Kobe, Nash and Pau should have dominated the league. I had them pencilled in to make the finals before the season began but it never happened and Dwight copped the majority of the criticism for it. The Dwight Howard hype train derailed.  Exit stage left to Houston. Dwight had, basically, everyone searching for his signature but eventually it was the Rockets he finally decided upon. Dwight now teams up with James Harden. The Rockets made it to the playoffs without Dwight in the 2012/2013 season so the team has talent. Having Dwight means the Rockets should be able to go deep towards the later rounds but as we know with Dwight, what should happen doesn't necessarily always work out that way. Dwight needs to toughen up. There are going to be players and fans all over the league who view him as public enemy number 1. This'll mean extra boos from fans and extra elbows from players. It needs to be water off a ducks back. Dwight has for years now got by on simply being an excellent defender and using his power and athleticism on the offensive end. Despite the way Dwight plays, it isn't possible to score all your points via dunks. Other big men in the game are getting better and have caught up to Dwight. They have adapted. Dwight needs to do the same. Get a better post game. Get some footwork. Make the key his. Apparently Houston have a good history with amazing centres with great post games and footwork. I think his name is Hakeem?! Dwight needs to give him a call and listen to what he has to say. If he can do this the Rockets will come up big.
1) Pau Gasol
The bromance is back. The NBA's odd couple. Kobe and Pau. Pau and Kobe. So many fond memories they have had together and with Dwight now out of the picture Pau is back to being Kobe's right hand man. In previous years Pau has had to take somewhat of a backseat to other big men on the Lakers. Bynum was always there to help out on rebounds and in the paint and last season it was all about Dwight. This season it's all about Pau. Last season he only averaged around 13ppg. This needs to increase and with the added responsibility of being the focal point on the inside it should. Kobe and Pau took the Lakers to three straight finals appearances. Pau needs to Marty McFly himself and get back to that form. He has said he's fit and healthy and with it being a contract year look for Pau to dominate. Over their 6 years together Kobe and Pau have not always seen eye to eye, Kobe has even blamed Pau for losses previously, but now they seem to be in a good place. If this holds steady for the season I think the Lakers will be able to push for the playoffs and perform well above their predicted 12th place finish.
* Honourable Mentions: Al Jefferson, DeAndre Jordan, Andre Drummond, Greg Oden, DeMarcus Cousins, Andrew Bynum
Nathan Darby