Hit a deep three pointer and you throw the three-goggles up. I'm sure you've all tried it at home. Just in case the opposition didn't see that massive three that was just dropped, putting the goggles up is just a friendly reminder of what just happened. This was no flash in the pan, new craze. Goggles have been around for years. Decades even. I think it's time we go back and look at the fashion mavericks who brought protective goggles and glasses to the masses. Many may say that they look ugly and are a blight on the NBA. I have a simple response to those fans… "You're wrong". And just for those fans (and those who are feeling nostalgic) this piece is for you.
5) Amare Stoudemire.
To begin this magical, mystery tour lets take a look at the present day. Amare Stoudemire. A man who with Steve Nash formed one of the most potent 1-2 punches the NBA world has ever seen. No rim was safe when Amare had the ball in his hands. But then two eye injuries in the 2008/2009 season caused Amare to have to sit out for a great deal of time. Eye injuries are difficult and nobody wants to risk permanent damage to their vision. Amare vowed to wear the goggles for the remainder of his career. Personally I think the style is a fall back to the fashion of the 90′s and think that Amare should really go with the glasses I've chosen for him above.
4) Kurt Rambis
Kurt Rambis wasn't known for his fancy footwork or pretty post moves. Just look at him. You know he's in the game to do the dirty work that nobody else wanted to do. He would dive on the floor, get knocked to the ground or get body slammed by the Celtics Kevin McHale every game and love it. Rambis was hipster before anyone even knew what a hipster was. That mullet, the unkempt moustache, a tuft of chest hair and most importantly, the glasses. Rambis is the newly appointed head coach of the Lakers but I'll always remember him for his fine addition to the NBA fashion library.
3) George Mikan
The man who started it all. The first superstar of the NBA. Little did he know that a simple pair of glasses would be discussed so often. George had a legit reason to be wearing his glasses. He was near sighted. I guess they helped in the 1950/51 season when George ripped down an average of around 14 rebounds per game. Mikan could shoot a deft hook shot with either hand and changed the way a big man could play basketball. He was a rebounding and low post machine. Mikan is also one of the top 50 NBA players of all time. Simply because of how Mikan played and his ability to control a game from either end caused the league to change some rules. One of those being the widening of the key area from 6ft to 12ft. Amazing how one player can cause an entire game to be changed. Mikan died on June 1, 2005 from diabetes complications. Shaq paid Mikan the greatest of compliments saying "Without number 99 (Mikan), there is no me".
2) Kareem Abdul-Jabbar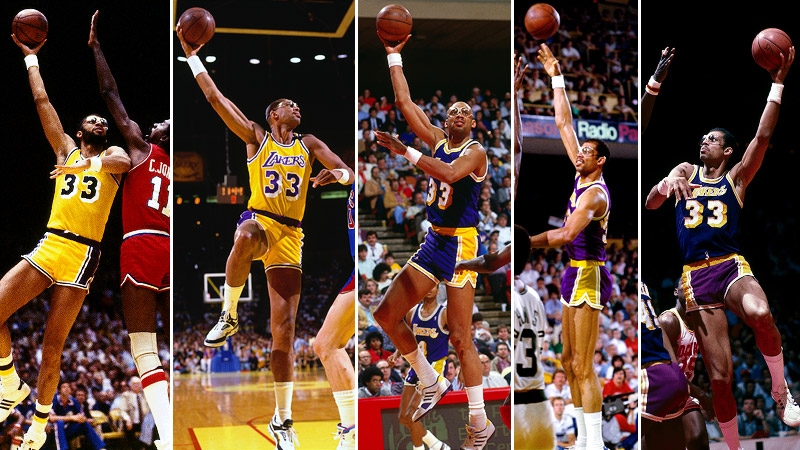 Maybe remember Kareem as the man who took the sky hook and made it his own. No doubt it is an amazing and virtually impossible shot to guard but for me it's all in the goggles. To go along with his amazing goggles Kareem's achievements are so numerous that it's difficult to get them all to fit on a page. 6-time MVP, 19-time NBA All-Star, 15-time All-NBA Team, 11-time All-NBA Defensive Team, 6 NBA Championships, 2-Time Finals MVP and one of the 50 Greatest players of all time. If I've forgotten anything Kareem I apologise. Kareem also had a dip at acting. His most famous role being the pilot on 'Airplane!', alongside Leslie Neilson. Kareem paved the way for NBA stars to become rappers and actors. So I guess we have Kareem to thank for Shaq dressing up as a 7ft genie in 'Kazaam!'. Thank you, I think…
1) Horace Grant
The ultimate role player. Horace wasn't flashy. He's not going to score a team 30 points but he will happily take a hit for the team. Horace has 4 Championship rings. He brought a hunger and desire to win to every team he played for (even though Doc Rivers cut him from the Magic he still played some big years there). Horace was the first player that I ever saw with goggles. My mind boggled as to how he could wear these and play. Wouldn't they fog up? Aren't they annoying? How can he see? All these questions I'd ask myself when Horace took the court. Eventually though I fell in love with the goggles and at times even found my younger self hoping for an eye injury or the onset of near-sightedness just so I could look as styling as Horace Grant.